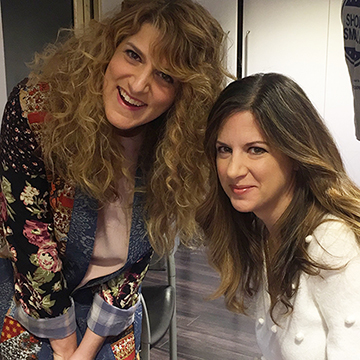 As sisters, New Jerseyans, and third-generation printers, we—Amy Salvini Swanson and Beth Salvini—quit our day jobs and opened the doors of Greenwich Letterpress in early 2005; bringing wit and pop-culture wisdom to the heart of New York City's West Village. Now celebrating over 17 years of a women owned business!
We specialize in custom letterpress weddings, announcements/invitations, and stationery, we also offer a uniquely curated shop of letterpress greeting cards, letter sets, notebooks, and gifts—featuring our own line and others just as distinct. In addition, we offer our own collection of neighborhood key tags (fictional and NYC neighborhoods) and distinctive enamel pins. Launching our first designs of enamel lapel pins in 2009—when jean jackets were just denim—we're excited to see how far they have come!
Greenwich Letterpress is not only interested in creating and producing paper goodness and lust-worthy gifts, we also care about the environment. All of our paper is either made from 100% tree-free post-consumer cotton or produced with a minimal ecological footprint. Not to mention, our inks are soy based.
In the New York City? Stop by the shop and talk paper and pop-culture with us.
Beth's Favorites: faux food, mini objects, giant objects, Taylor Ham & egg sandwiches, Pretzels the cat, pretzels the food, BH90210, Googling "sprinkles," teen angst in movies & TV, Christmas decorations, Autumn, making something out of nothing at all…
Amy's Favorites: Pugs, Italian Subs, imitating the smell of a fireplace, Cape May (NJ), coffee, old Tumblr pages, martinis (olives! twists are for maniacs), Christmas Lights Up All Year, the movie Hackers, Iceland, taking photos with a camera (I'm old), Britpop…
PRODUCT SUBMISSIONS
If you are a designer and interested in having your products sold at Greenwich Letterpress please email: beth@greenwichletterpress.com and attach a catalog or link to your website/products.
We can see what you are all about!
​If you want to mail samples, please send them to:
Greenwich Letterpress
Product Submissions​
Attn: Beth
15 Christopher Street
New York, New York 10014
Please note, unless you are sending return postage with your samples they will not be returned.
Please no phone calls or unscheduled visits. We receive a lot of submission and can't get back to everyone. If your products are something we would like for our shop, we will contact you. Thank you!
CUSTOM LETTERPRESS IN NEW YORK CITY
If you are interested in our custom letterpress for wedding, stationery or business cards please feel free to stop by our 15 Christopher Street location to browse through our binders of designs. For wedding consultations please email Amy at amy@greenwichletterpress.com
STORE POLICIES
SHIPPING
We ship all items via USPS or UPS. A tracking number will be generated and emailed to you by your chosen carrier. Please check your junk mail as it sometimes ends up in there! Please note if you order Friday-Sunday your order will be processed the next available business day.
LOST PACKAGES
We cannot be held responsible once there is confirmation a package has been shipped. If you are at all concerned about delivery we suggest choosing UPS as your carrier.
RETURN POLICY
Please note all sales are final. No exchanges or refunds.