FREQUENTLY ASKED QUESTIONS
What does semi-custom mean?
We offer many house designs for you to choose from, which are featured on our website and in the shop. You can change the font, ink and paper color
for no additional fee. You can also make edits such as image position, scale and some motif swaps.
Our aim is to have you be able to customize your design with the options we have.
Anything beyond this will be considered custom and would be a different pricing tier than our house design prices. Full custom designs start at $1,000.00
Can I see a design before I commit?
We require a 75% deposit before any design work is started. We will work with you on editing your design until you approve for print.
So what do you mean by letterpress printed?
I'm a designer can you print my pre-designed invites?
At the moment we are focused on printing our own designs, so we currently aren't offering just printing services.
How many colors can I print in?
We can print in as many colors as you wish but generally most letterpress designs are 1-3 ink colors, or passes through the press.
How do I choose my colors?
We have a color chart at the shop that shows all of our colors, we have many to choose from. If you are unable to look in person we are
happy to either email you a photo of our ink chart of any color you might want to use or mail you a sample that shows the color in question.
Can you print a custom color?
We offer a wide variety of ink color however if you have a specific shade in mind we can custom mix any Uncoated Pantone color for a flat fee of $75.00.
Can you print white ink?
Knock-out or white ink does not print well using letterpress. The type will end up looking translucent.
Unless this is the look you are trying to achieve we do not recommend printing with white ink.
Can you print with no ink?
Yes, we offer inkless impressions. Depending on the design we can guide you to if it will work for the look you are trying to achieve.
An inkiness impression would be considered another ink color. So please price for 2 ink.
The ink colors appear different on the PDF than I thought, why?
We try our best to simulate our ink colors on the digital PDF however they may appear different depending on what screen you are viewing it on.
The best way to know how an ink color will look is to view it in person at our storefront. However we are also happy to snail mail you a sample that
includes the ink color in question or a photo of the ink color from our chart.
Can you print on both sides of the paper?
Yes, but we avoid a deep impression on the second side of the sheet so it does not interfere with the primary design.
Can my invitation be designed w/ corresponding pieces
in the same motif (details card, menu, etc)
Yes, any of our designs can have corresponding pieces designed in the same style. So even though it isn't featured
on the website or our samples at the shop that doesn't mean it can't be designed to match your suite.
Do I get a letterpress printed proof of my design?
As per the industry standard we do not offer printed letterpress proofs, however we supply a PDF digital proof to you that will have all of your design details provided.
An actual letterpress sample is very costly and labor intensive since it's all done by hand. Over 17 years of experience we have found this to be an excellent representation.
We offer edits on your design before we go to press to make sure you end up with a design you love.
I saw a design on Pinterest…can you replicate it?
Every company has their own style so we ask you to stick with the designs we offer. There are so many ways to customize our house designs.
What paper do you offer?
Our house paper is Crane's Lettra which is made of 100% cotton (tree free!) and comes in 2 colors and weights. More info found here.
Do you offer colored paper?
If you have a specific color in mind please contact us. We can let you know what specialty papers we can offer besides our house paper.
A stocking fee will be added to the cost.
Do you offer edge painting?
We do offer edge painting as a special service, please email us for more information and we can quote this for you.
Do you offer day-of pieces (menus, programs, thank you notes, etc)?
We have the ability to offer letterpress menus, programs and digitally printed escort cards. Please note we do not offer small run items such as table cards, seating charts, drink menus, etc. since we only offer letterpress printing.
We don't offer day-of pieces for wedding suites we didn't design, this service is reserved for clients we have worked with on invitations.
Can you print escort cards?
We now offer digital escort card printing. All of our cards come tented and we have an Excel sheet to fill in your guests names.
Please note this this service is only offered to couples that order invitations with us. Please inquire about pricing.
Do you offer lined envelopes?
We do! Currently offering solid liners colors as well as custom patterns. Please add an extra week for production since the envelopes are lined by hand. Please click here for more info.
Can you print my envelopes with our guest addresses?
We can! We offer digitally (flat print) printed envelopes. We have an Excel sheet set up for your addresses and can use an array of different fonts.
I have an idea for a design, can you customize it?
We do offer full custom design if you can't find anything within our collection. We would consult with you on your ideas to see if it is a
good fit. A custom design fee would be added to your quote based on your design complexity, starting at $1,000.00.
Do you have motifs I can choose from?
Yes, we have a binder at the shop with many design motifs for you to choose from. If you have a specific image in mind please let us know and we
can see if we have it in our image library.
Do you have a font chart I can choose from?
Yes, we have many font options you can either view at our shop or look here. Or if you have a special request we are happy to help.
What size are your invitations?
Our standard invitations are 5 x 7″. Please inquire if you are interested in a special size.
I just put my deposit down, how long until I see a design proof?
Generally we send a PDF of your design in a few days from when you place the order. If it is full custom this will take longer.
How long will it take to receive my order?
Delivery is about 4-5 weeks after you sign off on the digital proofs. Timing depends on the complexity of your job.
I realized that I need more invites, what now?
We always recommend ordering at least 10-15 extra pieces. The price difference is very low compared to going back on press after we have already printed your job.
We will have to charge you in order to go back on press. So please always pad your order for extras, it's worth it.
I am ready to place an order, what is next?
Ready to order, great!  Once you would like to move forward we will email you a PDF contract with all of the details for your order.
A non refundable 75% deposit is required before the design work begins. Click here for our ordering steps.
What forms of payment do you accept?
We accept major credit cards and checks. Your balance is due on delivery.
Can you mail my invites?
We currently aren't offering this service due to our limited shop size (welcome to NYC!).
However we have an info sheet that explains everything you need to know about mailing out your invitations, it's easy, we promise.
Do you offer a rush printing service?
We have suspended rush services.
Can you use artwork of mine I would like to incorporate into the design?
Sometimes, this depends on the image which you can email us to review. We cannot reproduce photographs or multicolored images
such as watercolor or anything with shading. So mostly line art works best.
Example below of artwork that isn't able to be replicated using letterpress printing.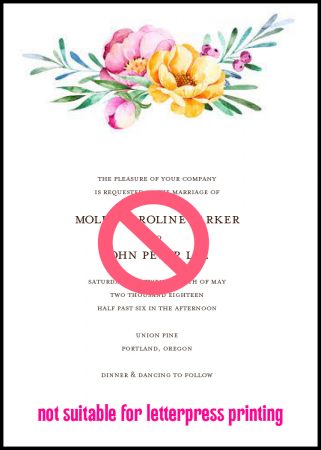 Example below of artwork that is appropriate for letterpress.